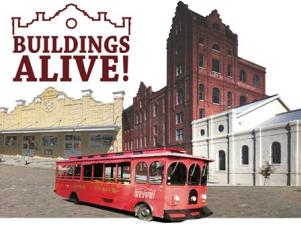 Hello there folks! Hope this Tuesday morning is getting off to a great start! March in Tampa Bay is going to be filled with great events, and there is one going on in Ybor City this Thursday to get things off to great start!
Hop on the Jolly Trolley or put on your walking shoes for the Buildings Alive! Architecture Hop on Thursday, March 1, 5-9 p.m., presented by the Ybor City Museum Society.  Enjoy food and beverages as you tour some of Ybor City's most beautifully restored historic buildings, each with its own architectural style and unique story. 
Join the fun by participating in a scavenger hunt with prizes. Free parking is available for the first 120 cars at Stantec, 2205 N. 20th St., Tampa, FL 33605.
Now today we are giving away two tickets to this amazing event so listen up! As usual all you have to do is answer some questions on Facebook and/or Twitter and you'll be entered to win a pair of tickets! Remember to retweet or share the original question on Facebook and/or Twitter to increase your chances of winning! Okay here goes!
This Ybor City landmark was constructed in 1895, and was originally the "Ybor Land and Improvement Company?"
True or False: The Centro Asturiano de La Habana was founded on May 2, 1886 to provide medical assistance, social activities, education, and recreational opportunities?
True or False: A total of 84 buildings in Ybor City, Tampa's National Historic Landmark District, are currently listed on the National Register of Historic Places?
Okay folks, that is all for now, but be sure to check back this afternoon for our winner and get to guessing!
Starting point for Buildings Alive! is at either Stantec or the Ybor City Museum State Park. Purchase advance admissions for $20 at www.cltampa.com/BuildingsAlive. Admission at the door is $25. Visit www.ybormuseum.org or call 813.247.1434 for more information.