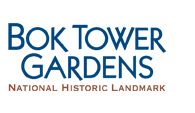 Hello all, This is Brooke here and I wanted to share with you guys a special place I recently visited.
I've been to some beautiful places during my travels in this big world we live in. I've seen the Eiffel Tower and Niagara Falls. I've been to the Golden Gate Bridge and walked along the Alps. I've smelled roses in Austria and fished in the Dominican Republic. But who knew that I could find such an incredibly beautiful and majestic location right in my own back yard?
On a recent visit to the
Bok Tower and Gardens
I was reminded that you don't have to travel to distant lands to find a truly memorable experience right around the corner. For those of you who have never heard of or been to Bok Tower and Gardens, it's a thrill for the senses. You wind your way back through acres of Florida citrus before finding yourself surrounded by lush gardens and a beautiful
Carillon tower
.
I was immediately off-set by the surrounding hills (yes, Florida does have hills) and the picturesque park-like setting. It was like stepping back into the Garden of Eden. Daily, the Master Carillonist "plays" the bells (imagine a pipe organ but this one rings the massive bells at the top of the tower) which fills the garden grounds with beautiful music.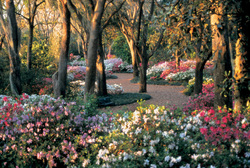 For those with a green thumb or just enjoy plants and flowers, you're in for a real treat. With the addition of music and giant swans that swim along the tower pond, one can't help but feel this place has a bit of magic to it.
If you are looking for a unique experience away from the theme parks, malls and beaches, I encourage you to make the short drive to Lake Wales and visit the Bok Tower and Gardens. It's sure to leave leave a long-lasting impression.
This is Brooke signing off, and be sure to stay tuned in for more updates and things to do in Tampa Bay!