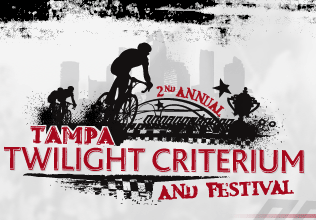 Yup so that was a longer title than normal, but I wanted to make sure that I could get the whole thin in there and make sure you took notice! Not sure about the rest of you guys, but I am super stoked about this weekend in Tampa Bay with the
ECOFestival
kicking off in conjunction with the
Tampa Twilight Criterium & Festival
this weekend.
Normally, these two events by themselves are enough for families and individuals to attend and very much enjoy, but now that they are working together, its just gonna be that much more awesome.
If you don't believe me that Criterium is going to be super awesome, here are some little tidbits of info you should be aware of:
bike races

all day long culminating with a professional race at dusk
live music from a stage
food and beverage with a focus on local companies
kids area including a bike rodeo to teach kids safe biking skills, bounce house,

climbing wall

, etc.
wellness area including fitness demonstrations, healthy cooking demos and more
exhibitors with a "green" or biking-related theme
"Celebrity" fun races and a community cycling parade
As you can see this is an event for all kinds, whether you want to bring the family, participate in the races, bring your pets, or just go by yourself and enjoy a great event, you won't soon be disappointed.
For you biking enthusiasts, I even heard that there will be valet bike parking, which is a cool concept that I had never heard of before yesterday. I will be out there this Saturday hanging out and enjoying the festivities, so I hope to see everyone out and enjoying two great events in downtown Tampa!
That's it for now, but stay tuned in for more Tampa Bay area events and check back for more ECOFestival and Criterium related things to do in Tampa Bay this week!