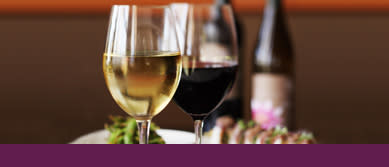 Good Afternoon Tampa!! Kristin here to tell you about the "Bring on Spring" Wine Dinner hosted by Roy's of Tampa. Why not start spring off on the right foot with exquisite cuisine and fine wine, sounds like the perfect date night to me! 
The event will take place Wednesday, March 28th, at 7:00 PM. It is $ 85 dollars per person, which includes all wine pairings. A Southern Wine & Spirits Rep will also be on hand to answer any questions you may have about your specific wine selection.

Let me give you a sneak peek of the menu!

FIRST COURSE
Crispy Vietnamese Summer Roll
Green Mango, Roasted Pork, Maine Lobster & Thai Basil
Blüfeld Mosel Riesling

SECOND COURSE
Maple Leaf Duck Pastrami Salad
Sweet & Sour Lettuces, Rye Croutons, Grain Mustard & Poha Berry Vinaigrette
Sokol Blosser "Evolution" Proprietary Blend N.V.

THIRD COURSE
Spring BBQ Hawaiian Shutome
Mushroom & Pea Cassoulet, White Polenta, Maui Onion Broth
Franciscan Chardonnay Napa Valley

FOURTH COURSE
Roasted New Zealand Lamb
Sweet Corn & Chevre Souffle, Dragon Carrots, Roasted Leaks, Red Curry Cabernet
Artesa Pinot Noir Carneros

PERFECT ENDING
Samoa Cookie Crusted Chocolate Panna Cotta
Glazed Cherries, & Coconut
Kona Blend Coffee

Space is limited and filling fast. Don't miss out on this night of spectacular wine and cuisine!
For more information please call 813.873.7697, and stay tuned in for more Tampa Bay dining updates!