Hey Tampa, it's Melissa. When you think of the holidays do you often find yourself cooking the same boring dishes? Are you looking for something new to try in the kitchen this holiday season? If so, look no further because our friends at Seasons 52 Fresh Grill have decided to share some of their traditional favorite recipes for you to make at home. Whether you're looking to impress your family or friends or just looking for something to break the monotony-we're here to help!

Every couple of weeks (maybe more often) I will be posting a new recipe for you to try! First on the list we have Grilled Turkey Skewers (4 servings.)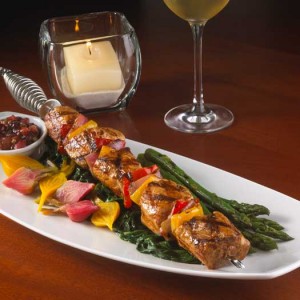 Here are the ingredients you will need:

• 2 lbs Turkey breast, no skin
• 2 ea Onions, medium-size
• 2 ea Yellow bell pepper, medium-size
• 2 ea Red bell pepper, medium-size
• 4 tbs Ginger, fresh ground
• ¼ cup  Soy sauce, low sodium
• ¼ cup  Rice wine vinegar
• ¼ cup  Honey
• 1 tbs Kosher salt
• 1 tbs Fresh ground pepper
• 2 tbs Extra virgin olive oil
Got all the stuff you'll need? Great! After you have everything in place, follow these steps:

• Cut peppers and onions into 1½" squares. 
• Sauté on medium-high for 30 seconds with extra virgin olive oil.  Let cool. 
• Cut turkey into 1½" cubes and place in shallow dish. 
• Mix rice vinegar, ginger, soy, and honey.  Pour over turkey and let marinate for one hour. 
• With a skewer, place turkey cube, yellow bell pepper and red bell pepper and then repeat 4 times with turkey, yellow and red bell pepper.  Repeat procedure on three more skewers.
• Prepare grill.
• Sprinkle turkey skewers with salt and pepper.  Grill on medium-high heat 6-7 minutes per side.  Baste turkey with BBQ sauce halfway.  Cook turkey to 165°.  Keep warm.

You also have a few sauce options as well:

Take favorite store BBQ for basting
(optional, add ¼ cup lime juice, 1 bunch chopped cilantro)
Or maple-bourbon glaze at holiday time

So, as usual talking or reading about food makes me hungry, I just might try this one myself! Go ahead and try this recipe as well and let us know how it turns out. And of course, keep checking back here for more recipes from Seasons 52 and Tampa Bay Area events.