Tampa Bay visitors will find a hotel renaissance underway over the next year or so as the destination adds hip new brands, reinvigorates our best-known properties, and makes plans for new builds and new flags. A treasure trove of creature comfort awaits. Here are some of the highlights:
NEW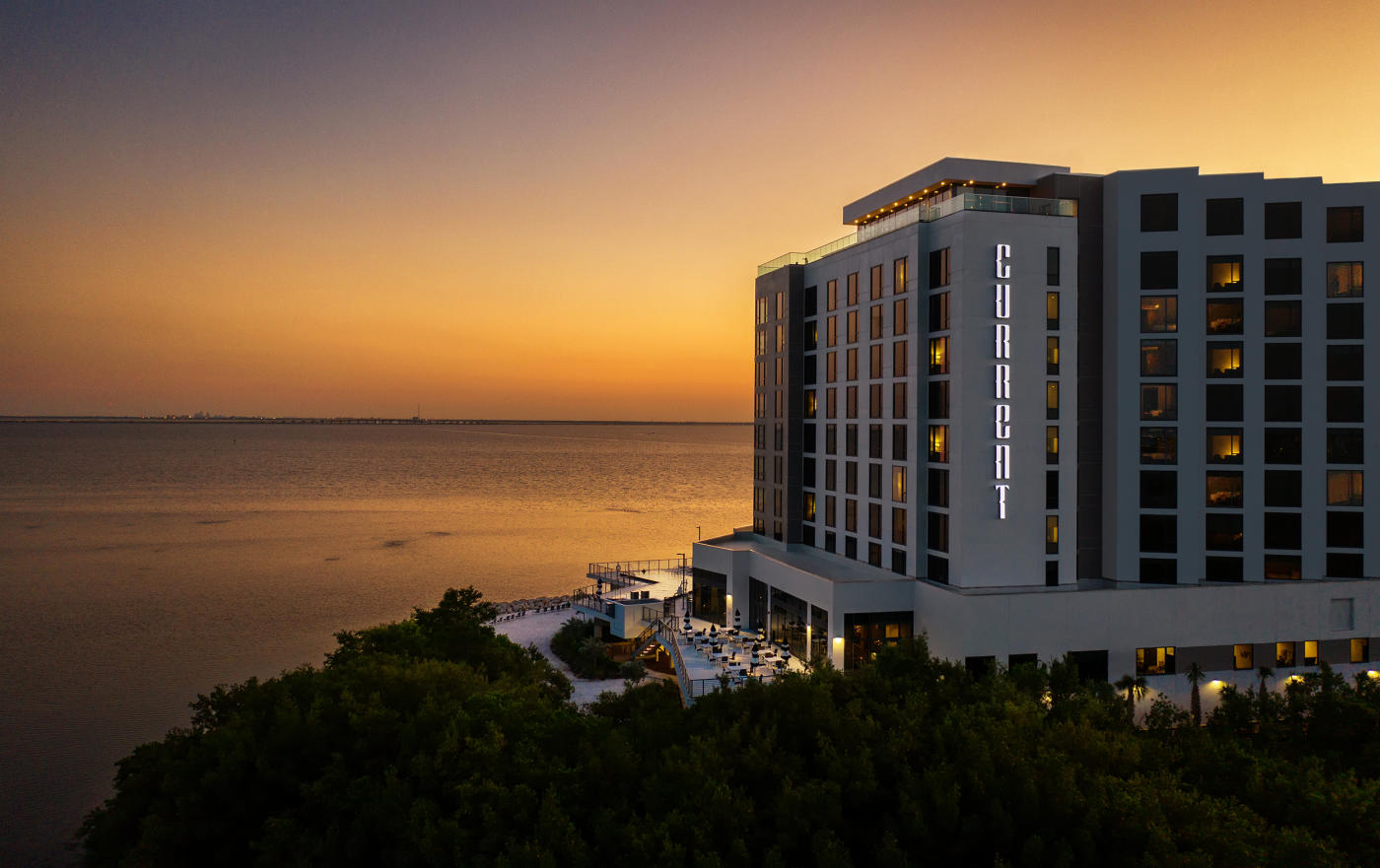 The new Current is a boutique hotel in the West Shore district a few minutes from Tampa International Airport. Tampa Bay's newest Autograph Collection by Marriott property will open in June 180 rooms, a beach and waterfront access for paddleboarding and other activities. Local favorites Oxford Exchange and Buddy Brew coffee add to the uniquely Tampa Bay vibe.
The West Shore district new Tampa International Airport recently marked the arrival of The Godfrey Hotel & Cabanas Tampa, featuring 276 rooms each with private balconies and breathtaking views of Tampa Bay. The hotel includes an expansive waterfront deck and pier allowing access to the bay for boating, paddleboarding, jet-skiing and kayaking. Ben T. Davis Beach is a short walk away.
Tampa Bay's former Crowne Plaza Tampa Westshore is now Hotel Alba with locally themed rooms, a stylish new lobby and courtyard and sweeping views of the bay, now part of the Tapestry Collection by Hilton. The location at the east end of the Howard Frankland Bridge is within easy reach of Tampa International Airport, International Plaza and Westshore Plaza, and minutes from downtown.
A quick stroll from downtown's towers, a new 213-room joint Hampton Inn/Home2Suites will open in 2019 in the trendy Channel District. The 213-room property will put guests three blocks from Port Tampa Bay's cruise terminals as well as The Florida Aquarium, hot new restaurants and a short streetcar ride for a night out in Ybor City, Tampa Bay's historic Latin Quarter.
The Westin Tampa Waterside is the $20 million reinvention of Tampa Bay's popular waterfront hotel, formerly the Westin Harbour Island. The new identity includes a new restaurant -- Blue Harbour -- offering popular beach-style cuisine and waterfront dining with a front-seat view of downtown's sparkling waterfront and nightly light show.
RENEWED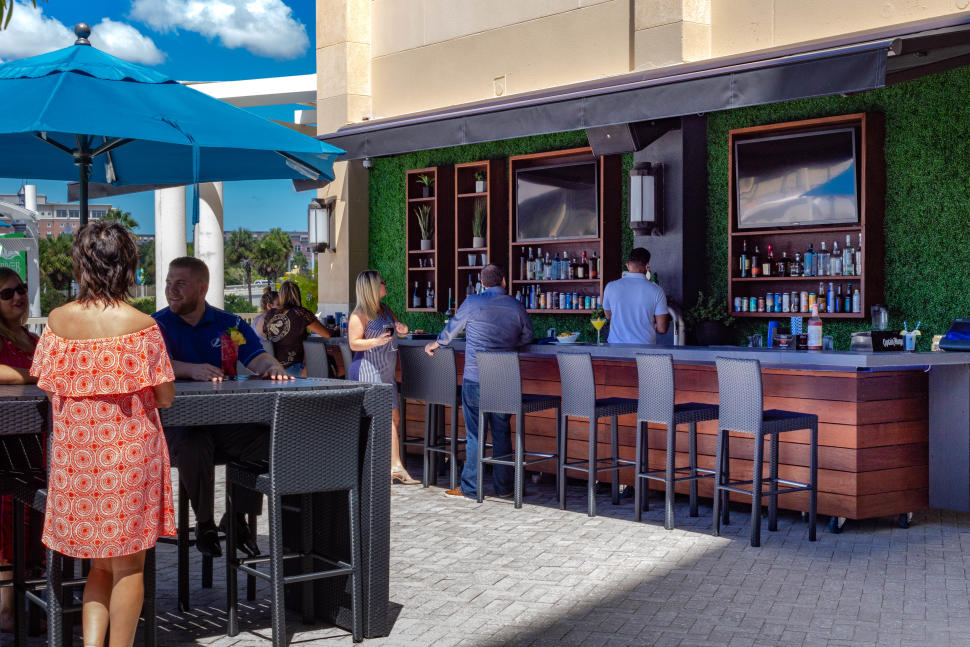 The re-christened Tampa Marriott Water Street -- downtown's largest and most iconic hotel -- completed a $50 million hotel-wide renovation of its rooms (including an entire floor of wellness rooms offering air filters and Vitamin C showers) and a new pool deck. Additions include a new restaurant, Garrison Tavern, which includes to TopGolf digital driving-range bays and a new connection to the Tampa Riverwalk.
A hotel-wide remake of rooms, pool area, and lobby has given downtown's landmark Sheraton Tampa Riverwalk a great new vibe to go with its plum location in the center of everything. The property has easy access to the Tampa Riverwalk, which links downtown's most popular attractions like gems on a string.
Visitors to the Residence Inn by Marriott Downtown will find a completely re-imagined hotel, from the tile on the floors to the sheets on the beds to the paint on the facade. The adjoining Courtyard by Marriott Tampa Downtown will undergo a full renovation this summer.
Two sleek new porte cocheres have made arriving at the Hilton Tampa Downtown quick and easy. After you settle into your room, swing by the beautifully redesigned rooftop pool and outdoor bar for a drink and a quick dip. New outdoor banquet space on the Poe Plaza pedestrian mall has created an exciting space for corporate gatherings or socializing with new friends.
COMING SOON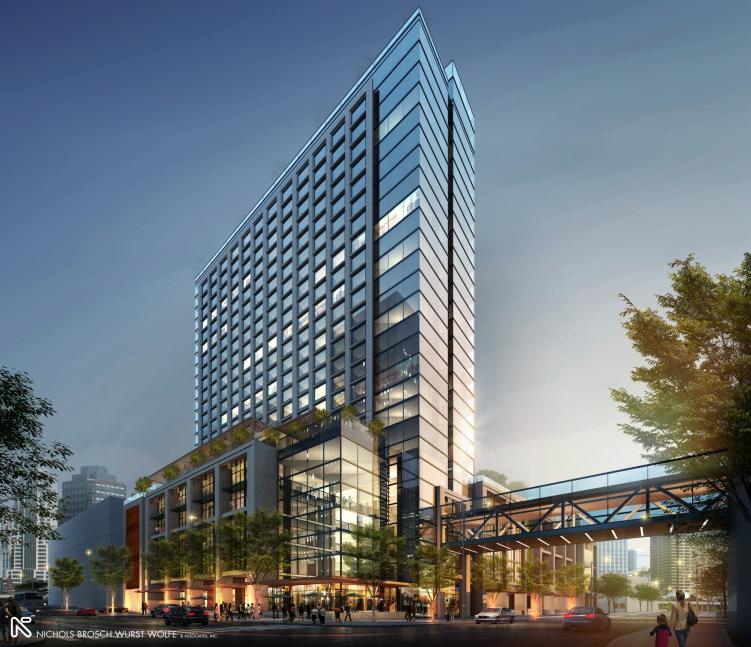 Another dual-flagged property -- Hyatt Place/Hyatt Home -- is under construction in the center of downtown, minutes from Amalie Arena, Tampa Convention Center and the Tampa Riverwalk. The combined property will stand 17 stories high and offer 345 rooms. It is expected to open in 2020. 
Part of developer Jeff Vinik's $3 billion redevelopment of former industrial property in downtown, the new 519-room JW Marriott Tampa will dramatically expand Tampa Bay's capacity for conventions and high-end travelers. The 5-star hotel will include Tampa Bay's highest rooftop bar with sweeping view of downtown and the bay. Its 126,000 square feet of meeting space will supplement the 600,000-square-foot Tampa Convention Center across the street. Opening is set for 2020 -- just in time for Super Bowl LV!
Also part of the massive Water Street neighborhood project, the new five-star, 173-room Tampa EDITION hotel is slated to open in early 2021 across the street from Amalie Arena. Tampa Bay joins a select group of communities around the world to welcome EDITION's brand of innovated design, vibrant public spaces and sophisticated programming. The developers of Tampa EDITION broke ground on the project on August 14, 2019.
In early 2020, Chicago-based Aparium Hotel Group, which has made a name for itself converting historic buildings into hotels, will open Hotel Haya, a boutique property in Ybor City, Tampa Bay's historic Latin Quarter. The project will incorporate one of Ybor City's oldest buildings in its design. The look will be classic Ybor City, with iron balconies overlooking the street. The hotel's name celebrates Ignacio Haya, a founding father of Ybor City and the man whose factory rolled the first cigar in the district in 1885, setting in motion an industry that would quickly transform Tampa Bay from a tiny town to a major metropolis and immigrant melting pot!