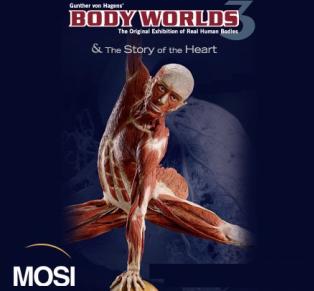 Hey everyone!  It's Travis here with a great, and exciting, Tampa tourism update for you.  Now, we always like to brag on our partners whenever possible, so when we heard the news that the BODY WORLDS & The Story of the Heart exhibit had a record one-day attendance yesterday, we just had to tell everyone. 

More than 3,000 people (well 3,076 to be exact) experienced the Body Worlds exhibit yesterday, and from what they say, they are expecting the same kind of crowd today!  Like I said, this is a one-day record for that exhibit, which is awesome! 

In case you haven't heard about this exhibit, here's the lowdown -

Gunther von Hagens' BODY WORLDS & The Story of the Heart is now open for a limited engagement at MOSI.  The Florida premiere of BODY WORLDS presents the form, function, complexity and beauty of the human body.  Featuring a unique collection of over 200 authentic human specimens, including whole-body plastinates, organs and translucent body slices, BODY WORLDS & The Story of the Heart will offer visitors profound insights into the human body, health and disease, and the intricate world of the cardiovascular system. 

BODY WORLDS spans some 17,000 square feet at MOSI.  More than 26 million visitors in 47 cities across Asia, Europe, and North America have seen BODY WORLDS since its debut in Japan in 1995.

And there you have it...so make sure you head over to MOSI and check out the exhibit.  Plus, they have a ton of other stuff to participate in as well. 

And keep checking back for more updates about great things to do in Tampa Bay, as well as exciting and interesting Tampa tourism information.