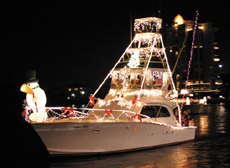 Hey everyone.  You know, every year we get questions about boat parades, so we thought we'd go ahead and get some information out there so everyone can start planning their holidays...and thanks to our friends at FloridabyWater.com for providing this great info! 
Every year, they compile a comprehensive directory of places to celebrate the season along the water's edge, and they have released their annual list of 2011 Holiday Boat Parades.
And don't worry, they have events all over Florida, so no matter where you are in the Sunshine State, they'll have something for you.  For major events like Fort Lauderdale's Winterfest, and other big-city draws like Tampa and Jacksonville,  hundreds of thousands of people will line the shoreline to catch a glimpse of the spectacular vessels adorned with lights. For a more hometown feel, you might want to check out smaller events like the boat parades in Astor or Milton. 
Parades begin on November 26th and run through December 18th; the majority will take place on December 10th.  So, if you want to find a boat parade in your area, go to www.floridabywater.com/component/content/article/1647-boat-parades.
Have fun and enjoy the shows.  And of course keep checking back here for more great things to do in Tampa Bay during the holidays and other Tampa Bay area events.