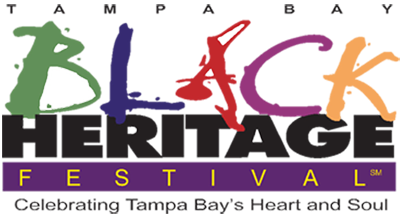 Hey everyone.  Travis back with some great Tampa Bay Entertainment updates for everyone.  We are talking about the Tampa Bay Black Heritage Festival this time.  We just got some info in, so here you go -
The Tampa Bay Black Heritage Festival is starting the new decade with flare and is setting a new stage for the community's biggest cultural arts event. Featuring some of Tampa's most eclectic, cultural and historical spaces, the 10-day Heritage Festival has a new-found edge to its core Signature events, including the chic Heritage Gala held 6:30pm on January 14th at the Tampa Bay History Center, one of Tampa's premier cultural venues.
The semi-formal soiree will give Heritage Gala guests a 360-degree view of Tampa's illustrious culture. Single tickets to the Heritage Gala are priced at $30; couples tickets are $50; tickets purchased at the door are $40.
Integral to the Heritage Festival's master plan is a specific focus on celebrating Tampa's history and cultural beauty, as well as promoting proactive health and wellness education within the African-American community.
Complete with a 5K Walk for Cancer, a Health Village including an "Ask The Doctor" division, artists, food vendors, and the electrifying sounds of electric violinist Ken Ford and R&B legend Jeffrey Osborne, the two-day Heritage Street Festival is all set for the newly-designed Curtis Hixon Waterfront Park in downtown Tampa overlooking the Hillsborough River.
The free 5K Walk for Cancer in honor of Felecia Ann Wintons-Taylor kick-starts the two-day Heritage Street Festival January 15th with on-site registration at 7:30am and the 5K walk from 8:45am to 9:30am. Come for the Walk and stay for the Street Festival celebration Saturday January 15th from 10:00am to 6:30pm followed by Sunday, January 16th from 11:30am to 6:30pm.
The entire 10-day event runs January 13-22, 2011 and has a collage of events that promote the beauty of Tampa's culture, wellness and spirit:
Jan 13th | Heritage Movie Night | 6:30pm-9:30pm | Free | Held at the legendary Tampa Theatre, artist Talitha Anyabwele will perform an excerpt of Black Girl Speaks, and Heritage Movie To Be Heard will make its debut about the power of turning dreams into reality through artistic expression.
Jan 18th - Mar 2nd| Heritage Living History Art Exhibit: The Adrian Picket Experience | 10am-7pm | Free | An exhibition of recent works in the challenging medium of charcoal created by award-winning artist Adrian Pickett, Jr. His artwork will be displayed until March 2nd.
Jan 19th | Heritage Leadership Luncheon | 11:30am-1:30pm | $10 Donation | Keynote Address by Award-winning journalist and author Dorothy Gilliam, who covered major events of the civil rights movement as well as issues surrounding politics, education and her very own personal experiences for The Washington Post. Gilliam was the first black woman hired by The Washington Post.
Jan 20th | USF University Lecture Series with Martin Luther King III | 7:00pm-8:30pm | Free | Martin Luther King III motivates audiences around the world with his message of hope and responsibility. He has moved others to focus on a better and more equal tomorrow.
Jan 22nd | Tampa History Tour | 10:30am-12:00pm | $8 Adults, $6 Children | With three floors of exhibition space, the Tampa Bay History Center focuses on 12,000 years of Florida's history. The History Center's hands-on, kid-friendly activities coupled with cutting-edge interactive exhibits and theaters provide a unique educational experience.
Jan 22nd | Girlfriend Camp | 11:30am-4:00pm | $25 Advance, $30 Event Day, Includes Lunch| Put the fun back into fitness through movement, education and girlfriend camaraderie! An event dedicated to women, fun and movement, Girlfriend Camp is all about connecting mind, body, life, and other women.
For a complete list of Heritage Festival Events and additional Heritage Festival information, visit www.tampablackheritage.org.
Enjoy everyone.  And we'll see you back here for updates about the Festival, as well as more great things to do in Tampa Bay and other Tampa Bay area events.