Hello Tampa Bay, Alex here to let you know about Ocean Prime's Black Friday.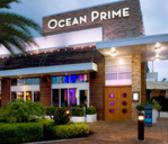 If you are looking for a great place to grab lunch on Fridays, 
Ocean Prime
is the place to go.
The lunch trio and dessert is $20 per person and includes: soft drink, coffee or tea, a cup of soup, house salad, half turkey club and carrot cake. In addition to this great deal, Ocean Prime will be offering Prime Hour all day on Fridays. Valet parking is complimentary too!
Make your reservation online today at,
http://www.oceanprimetampa.com/
.
Enjoy a great lunch on Friday.
Check back with us often for updates on Tampa Bay dining!