Hey there folks! Jerm here with another update for you on some awesome Tampa Bay area events going on at the
St. Pete Times Forum
this month!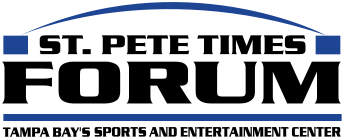 So much to do so little time! Fresh off an amazing weekend of Professional Bull Riding, this week coming up we have Lady Gaga and Iron Maiden both coming to Tampa in the same weekend!
Lady Gaga needs no introduction as she comes to Tampa! The 2011 North American Monster Ball Tour, produced globally by Live Nation and presented by Virgin Mobile, began on February 19, 2011 at Atlantic City's Boardwalk Hall, taking her spectacular show to top arenas and a host of new cities which includes a stop at the St. Pete Times Forum!
Iron Maiden embark on Tampa from their 26-city world trip, which commenced in Moscow on February 11 and will close with the final show of the tour in Tampa, Florida on Sunday, April 17 at 8:00 p.m.
If you didn't also know by now, our #Allin Tampa Bay Lightning will play host to the Pittsburgh Penguins on April 18 & 20 respectively! Hopefully by the time the boys make it back home, they will be up 2-0 in the series and will look to close out this one and on to the next round! If you haven't already done so, please
get your tickets
as Jerm can pretty much promise you that this bad boy is gonna sell-out!
Last but certainly not least this month,
Charlie Sheen
, will grace the stage at the St. Pete Times Forum for the Violent Torpedo of Truth/Defeat is Not An Option Show! This one will without question be one to check out folks!
Well folks, that's it for now but be sure to check us out for more updates on things to do in Tampa Bay at the St. Pete Times Forum!