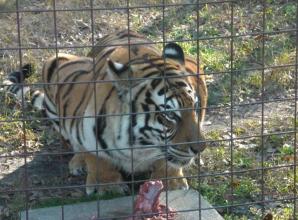 Hey gang…we're back with part two of our Big Cat Rescue trip.
This time we're filling you in about the Big Cats filling up, and luck for us…we weren't on the menu!
But, they did have a nice mixture of raw chicken, beef and a lovely mixture of the finest mush (which looked a lot like a hamburger patty) available.
The tour started off a lot like a normal Big Cat Rescue tour (and if you haven't been on a regular tour, you MUST do it soon!) but we found out quickly that this wasn't your everyday Big Cat tour. 
We got up close and personal as trainers fed the cat their daily nutritious meals.  But, on to of getting to be just feet away from the tigers, leopards, mountain lions and even sand cats as they ate, we got to learn all about them too.  Everything from what they diet in the wild would be to how they would hunt for food. 
Plus, we got some really cool pix, which you'll see all throughout this blog, and I may even post a blog with just some more photos on it because we got so many.  But I digress. 
This was certainly one of the coolest Tampa Bay tours I have ever been on,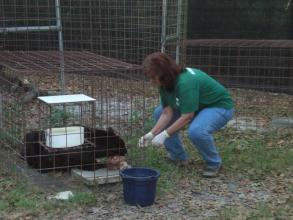 and certainly one of the most exciting tours at Big Cat Rescue (and believe me, they have several tours). 
We left there wanting to go home and feed our cats through a cage just for fun, but we stuck with the nutrous instead. 
But, if you are ever in need of something fun to do, or if you just want to go see what Big Cats are all about, then this is something that you just have to experience.  I promise that you will never forget it.  Just head over to the Big Cat Rescue website, www.BigCatRescue.org to get the details for tours and times. 
And, keep checking back here for more details about Big Cat Rescue, and other things to do in Tampa Bay.  We'll keep bringing you the best Tampa Bay entertainment out there. 
Plus, if you've done anything exciting that you want to share with other bloggers/readers, stop in and let us know.  We are always curious as to what you all are up to.