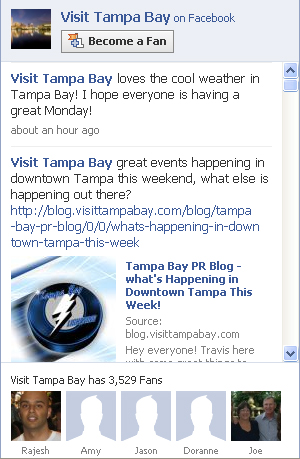 Hello all, Jerm here with an update for you! If you are not a fan of Visit Tampa Bay on Facebook yet, then man are you missing out!
Not only do we give you the low down on what all is going on here in Tampa Bay during the week and on the weekends, but you are also missing us giveaway some cool stuff, like St Pete Times Forum tickets! 
Last week we gave away some awesome tickets to the Walking with Dinosaurs event here at the
St. Pete Times Forum!
Since I have the low down on future giveaways, I can confirm that I may have some Howl-O-Scream tickets to give away this week, but you have to be Facebook Fan to win, so I suggest you hurry up and become one!
All you have to do is visit our website at
www.VisitTampaBay.com/Facebook
, and check out our Facebook Fan box to see what we have been talking about lately! When your ready, click on the "Become a Fan" link and verify it when you sign in to your Facebook account.
That's all for now, but be sure to stay tuned for more updates on things to do in Tampa Bay related interactive stuff!