Hello everyone, Jerm here with an update for you on a deal you won't want to pass up from one of our newest Tampa Florida attractions, the
Glazer Children's Museum
!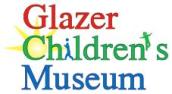 Boy have they got a deal for you! Enjoy all the benefits that membership to the new Glazer Children's Museum has to offer AND get three extra months FREE when your family joins our family prior to August 15th!
Just because I love you guys so much, I'll even give you a special discount code that you can use if you purchase by August 15th, which is only a few days away! Just be sure to enter the code WEB1 at checkout. Okay so maybe not, as that code is available on the Museum website...hahaha
All memberships purchased under this limited-time offer will be valid from our GRAND OPENING (Sept 25th, 2010) until the end of next year (Dec 31st, 2011).
So i am not sure exactly what your waiting for, but be sure to go
purchase your membership
now, and be sure to be there on opening day on September 25th! After you do that, be sure to check back here with us for more updates on things to do in Tampa Bay!