Greetings everyone!  It's Jessica ~ as we see summer coming to a close in the near weeks, children are heading back to school, and we all gear up for the autumn season... it's time to start planning our calendars!  Luckily for you, I've always got some fun ideas for those of you looking for things to do in Tampa Bay.... and this event is no exception!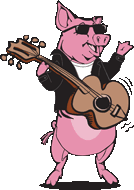 The 2009 Kansas City BBQ Society's (KCBS) Certified Judging School will be held one night only on Sunday, October 4, in Plant City.  You may or may not know, but residents will then be gearing up for the Seventh Annual Plant City Pig Jam on Saturday, November 21!!  But learning how to judge the competition is just one way to get ready.
The class will take place from 4:00pm- 8:00pm at Johnson's Barbecue, 1401 West. Dr. Martin Luther King, Jr. Blvd, Plant City, 33563.  The cost of $55 current KCBS memeber and $85 for non-members.  (However, the non-member fee includes a one-year KCBS mebership!)
By holding this class, the Greater Plant City Chamber of Commerce ensures they have all certified judges when it hosts its Pig Jam each year.  Now's your chance to join the 112 individuals locally how have been certified since the first class in 2006.  That's not it... once you complete the Oct. 4 schooling, you and all other certified participants will be qualified to judge any of the over 200 KCBS-sanctioned contests each year!!
Applications for this exciting event are available on the chamber web site at www.plantcity.org.  For questions, please contact Marion Smith at 813.734.3707.  Good Luck and happy BBQing!!
Don't miss this and other great Tampa Bay area events coming to you this fall ~ be sure to check back often for more Tampa tourism and Tampa Bay entertainment!!  "Oink Oink"