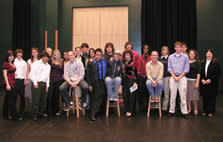 Have you ever wondered how you can get involved in fostering the arts in Tampa Bay.  Well, the Patel Conservatory is giving you that chance.  The Patel Conservatory at the David A. Straz, Jr. Center for the Performing Arts provides high-quality arts enhancement programs for local schools and organizations through outreach partnerships, and applications for the 2012-2013 Community Partnerships program will be available beginning February 20 and will be accepted through March 16.
Each year, the Patel Conservatory works with underserved area schools, Tampa Bay area agencies and community organizations by providing individualized performing arts programming or tickets to shows at the Straz Center. Arts programs may include workshops, master classes or performing arts classes.
In a news release, Wendy Leigh, vice president of education at the Straz Center for the Performing Arts, said, "A major part of the Patel Conservatory's mission is to share the transformational power of the performing arts both here at the Straz Center and out in the community. Our partnership program allows for a wonderful blend of both. We feel so fortunate to have this incredible program that allows us to reach out and work with people who normally wouldn't have access to our wonderful arts programming and to see the profound difference it makes in their lives."
 
The application process will include a written application and in-person interview. All previous partners must reapply to be considered. Selection criteria include, but are not limited to, application completion, demographic requirements, geographic location and special needs. 
To receive a partnership application and for more information, contact Tina James at 813.222.1002 or visit www.patelconservatory.org and click on Education Outreach.
We'll go ahead and thank you for your interest...of course we all want to help foster the Arts in Tampa Bay!  We'll see you back here for more updates about the arts, as well as great things to do in Tampa Bay.