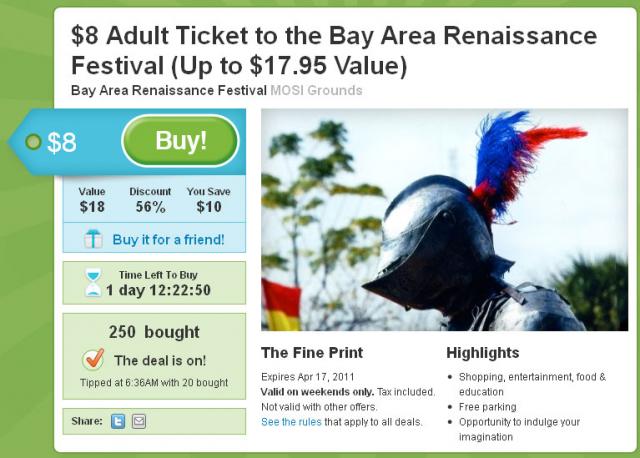 Hey there folks! Jerm here to drop a quick line and let you know about a cool deal being brought to you from our friends at MOSI/
Bay Area Renaissance Festival
and the fine folks over at
Groupon Tampa
!
Today's awesome deal invites you to check out the Bay Area Renaissance Festival at the low ticket price of $8 for an adult ticket  (a $15 advance value, or a $17.95 value at the gate).
The festival is already well underway,and will run, rain, sleet, snow or hail, through April 17m so be sure to get out and enjoy the food, music, and festivities!
Interested in learning more about the Groupon process? Be sure to check out the site at the
Groupon Works
. If your business are located here in Tampa Bay and interested to learn more about making Groupon work for you, just contact our awesome local Groupon rep Jessica Dwyer at
jdwyer@groupon.com
!
That's all for now folks, but stay update to date with us as we send you more info about Tampa Bay area events related daily deals and other tips on things to do in Tampa Bay!