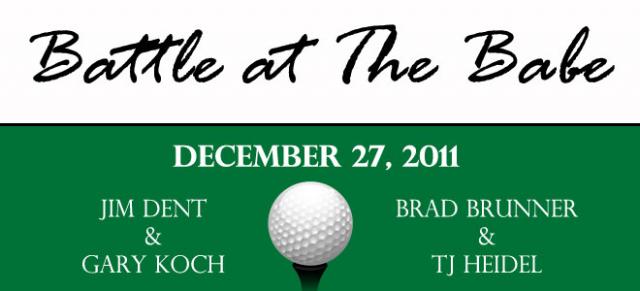 Listen up, golf lovers of Tampa Bay! Katy here to inform you about a local golf event taking place next week called "Battle At The Babe" On Tuesday, December 27th, former PGA Tour member and current Champions Tour members, Gary Koch and Jim Dent, will take on T.J. Heidel, head golf pro at Rogers Park Golf Course, and Brad Brunner, the current record holder at Babe Zaharias Golf Course, at this year's Battle at the Babe. Last year's exciting 18-hole skins game will become a fourball stroke play event.
Proceeds from sponsorships, spectator tickets and donations will benefit the First Tee of Tampa Bay. Spectators will have the opportunity to donate more money during our scheduled breaks during the round. We will be asking for $25 donations during the event.

When:
Tuesday, December 27, 2011 at 10a.m.
Where:
Babe Zaharias Golf Course, 11412 Forest Hills Dr., Tampa, FL 33612

Who Should Attend:
Spectators are welcome for $10 which will permit walking only. (Ticket comes with a $10 off coupon to play at Babe Zaharias Golf Course at a later date)
Why:
A portion of the proceeds will go to the First Tee of Tampa
Be sure you don't miss out on this great opportunity to watch some golf in this gorgeous Tampa Bay weather. For more information,
click here.
Happy Holidays!