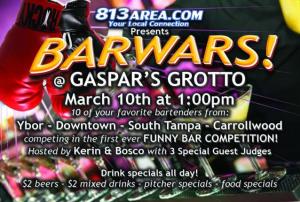 Hello there folks! Jerm here to tell you about an awesome event coming your way soon!
A handful of top bartenders from across Tampa Bay will put their skills to the test as 813area.com presents the Inaugural Bar Wars bartending competition at Gaspar's Grotto in Ybor City on Saturday, March 10.
Bar Wars will kick off at 1 p.m. and pit 10 Tampa bartenders against each other in an ultimate competition of speed, skill, bartending humor, and much more.
Competing bartenders at Bar Wars include Pat Kelleher from MacDinton's, Reagan Ramesar from Gaspar's Grotto, Rich Harding from The Dog's Bollocks, Eddie Teti from O'Brien's Brandon, Brett Cardoso from The Rack, Terrance Joseph from O'Brien's Tampa, Butch Johnson from Martini Republic, Crystal Thomas from Bad Monkey, Steff Cianci from Hyde Park Cafe, and Amber Hanson from Coyote Ugly.
Challenges at Bar Wars will include fastest drink, funniest bartending joke, obstacle course, bar trivia, guess the drink, special drink, and more. Bar Wars kicks off at 1 p.m. and admission is completely free. Gaspar's Grotto will also offer great drink specials including $2 beers, $3 Sailor Jerry, $2 shots, $3 wells, and $6 pitchers all throughout the day.
This is not one to miss. Head out to Gaspar's Grotto in Ybor City on Saturday March 10 to party and watch some of the best bartending in Tampa Bay as 813area.com presents Bar Wars! Bar Wars is sponsored by Sailor Jerry and Flipcups.com.
That's it for now, but stay tuned in for more updates on things to do in Tampa Bay and Tampa Bay area events!