Hey everyone!  Travis here with a really cool announcement that I just had to share with you all!  As I'm sure you all know, we promote Hillsborough County...in every way possible.  Well, one of these ways received an award today at a luncheon hosted by the Tampa Bay Regional Planning Council.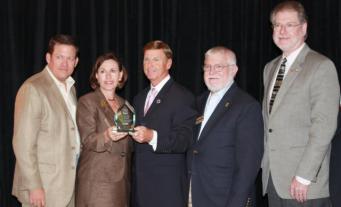 Months ago we partnered with the Tourist Development Council and the County's Economic Development Department to produce the Outdoor Adventure Guide: Discover Your Wild Side brochure.  This is the first ever brochure to inform the region's residents and visitors of nature tourism adventures in Hillsborough and adjoining counties. 

Well, it received an honorable mention from the 17th Annual Future of the Region Awards program today.  You can take a look at the photo here...I won't tell you who everyone is, but I'll tell you that they were integral to the brochure's production and they were happy to accept this well-deserved award for these efforts. 

You can access the guide by logging on to the County's web site at www.hillsboroughcounty.org/econdev/tourism and click on Outdoor Adventure Guide.  Plus, you can always log on to the VisitTampaBay.com website to get the lowdown on all activities to participate in throughout Tampa Bay! 

So, join me in wishing the TDC, Economic Development Dept. of Hills. Co., and Tampa Bay & Company a heartfelt congrats!!!!!! 

And stay tuned for more updates about Tampa Bay area events.  There are plenty of ways to get out and enjoy this Tampa Bay weather, and we'll bring them all to you!