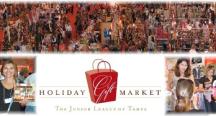 Attention all shoppers! Melissa here with some news about the Junior League of Tampa's 7th Annual Holiday Gift Market, which will take place on November 5-7th.
In case you didn't know, the League is comprised of over 1600 women who are dedicated to promoting voluntarism, developing the potential of women and improving the community through effective action and leadership-their work is truly great.
This shopping event is the Junior League's largest fundraiser, so why not come out and support a team that does so much to improve your community? The event will feature over 120 merchants from across the country, all offering unique gift items. You might be thinking, what's a unique gift item? Well, that's just the thing; it could be anything because it's UNIQUE! However, a few examples would be boutique jewelry, clothing, handbags, children's items food and a lot more!
The Junior League's Award Winning of Tampa Culinary Collection cookbooks will also be available to purchase-even their new one: Capture the Coast.
If these details aren't enough to rope you in, what if I told you that 100% of the net proceeds will go to support the work the Junior League of Tampa does to improve the lives of families and children in our Tampa Bay community. Your support will directly affect them.
Tickets are only $5 at the door (though I would bring a few dollars more since you will probably want to buy some of the amazing items they'll be offering.)
Parking is also $5 for cars, $10 if you arrive in an RV or bus. This looks like it will be a good time for anyone who enjoys supporting a good cause while having an awesome time.

Feel free to visit their site for more information and keep looking here for more info about things to do in Tampa Bay and Tampa Bay shopping updates!