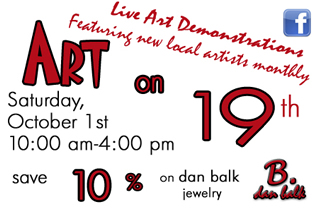 Hi everyone.  We have some FREE Tampa Bay entertainment to tell you about.  Singing Stone Gallery & Studio is presenting a free live art event (taking place monthly) featuring new local artists each month, including Jason Dowd (Photography) and Anthony Cartagena (Painting), among others. 
Art on 19th Street is a live art and music event on 19th Street in Ybor City at Singing Stone Gallery & Studio. You can join them next Saturday, Oct. 1 from 10am to 4pm for their 9th monthly Art on 19th St. event. And go ahead and put the next one on the calendar too - the next event takes place on Saturday, Nov. 5.
Fine art and craft produced by local artisans will be on display and for sale. The gallery and studio is housed in a restored structure from the 1900's on 19th street between 8th and 9th avenues in the "artsy metropolis" of Ybor city.
In case you don't know about Singing Stone, here's some background - Singing Stone Gallery is a working studio and gallery featuring Dan Balk's Fine Art Jewelry, eclectic contemporary craft and fine art. The Gallery is owned and managed by Nataly Balk, who takes pride in exhibiting and supporting over 45+ local and regional artist's work in a broad range of fine art and contemporary craft.
The Singing Stone Gallery is located on 8th Ave. and 19th St. in Ybor City at 1903 N. 19 St., Tampa, FL 33605. And here's the GREAT part - admission & parking are free. For more information visit www.SingingStoneOnline.Com. 
If you go, have a great time!  Ybor City is an awesome place to visit everyday, but especially Saturday mornings!  And keep checking back for more great things to do in Tampa Bay.