I'm new to this whole blogging thing so bare with me...

I had the pleasure of eating lunch today at the new restaurant, Aquaknox.  It's located on the bottom floor of the new Westin Tampa Bay Airport and is gorgeous!  Aquaknox came to the Tampa Bay dining scene just in time for the Super Bowl in Tampa Bay on February 1 and has been going strong ever since.  They are open for breakfast, lunch and dinner 7 days a week and have an awesome menu.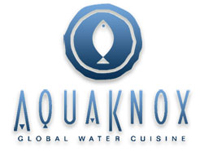 They fly in fresh seafood from all over the world DAILY to make the items on the menu.  I love seafood so decided to taste the calamari and open-faced crab cake sandwich.  Both dishes were really tasty.  I, of course, had to taste not just one, but two desserts...the apple tart with vanilla ice cream and a chocolate molten cake with raspberries. 

The desserts were to die for and I ate the majority of both of them.  I would definitely suggest checking this place out - even if it's just for a drink at the bar or outside overlooking the water.  The decor of the restaurant is really cool and somewhat modern. 

With there only being two other Aquaknox restaurants in the U.S. - one in Las Vegas and one in Atlanta.  Tampa's certainly moving up in the world. Stop by and have a bite to eat, and be sure to tell them Lauren sent you!