I forgot to blog about my favorite part of Aquaknox...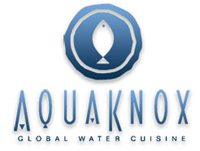 They have rolled out a new customer loyalty program called Nextime Perks Club.  If you receive an initial Perks Club card, it's a $10 gift card.  The next time you visit the restaurant and use the card, they'll give you a $15 gift card for your next visit then $20 for your next visit and so on.  It goes all the way up to a $50 gift card in $5 increments.  Once you redeem the $50 gift card, you're entered into their "Elite Club" and receive really great dining specials and benefits.   
So when you visit Aquaknox, be sure to ask for your Nextime Perks Club card.  Not many restaurants actually give you money to spend on your next purchase...all for being a great customer!