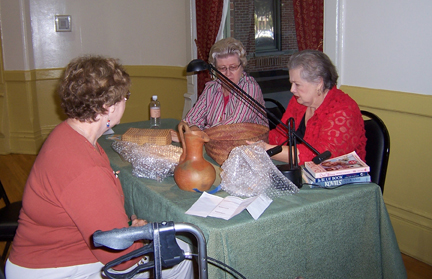 Hey all of you antique lovers out there...we have some great Tampa Bay Entertainment news for you.  Whether you admit it or not, many of you have followed the "Antiques Road Show" on television hoping to spot a familiar family heirloom worth enough money to change your life.
Well, at the Henry B. Plant Museum they have their own "Antiques Road Show" called Antiques Evaluations Saturdays. Seven Saturdays a year skilled appraisers donate their time to evaluate the community's possessions.
 
Bring your favorite treasures to the Music Room in Plant Hall at The University of Tampa for a verbal evaluation. At 10am on Saturday, April 9, local appraisers will be available to answer your questions. Evaluation cost is $5 per item, which goes to the restoration and renovation of the museum. 
There is a limit of four items per family. Tickets will be sold on a first-come first-served basis, and will be sold between 10am and Noon.  If furniture is too large, bring a good photograph and a drawer or door from the piece, if possible. 
 
And here's a huge bonus - afterwards you may visit the Museum for free.
 
Here is a video link to a short video describing what takes place at the Antiques Evaluations Saturdays: http://www.youtube.com/watch?v=8_9UkkNTom4
 
Some or all of the following appraisers will be present - Nancy Hilbert–Collectibles; Jay Hunter Loiselle–American paintings, furniture and Americana; Ashby Moody–Maps, silver and documents; Frances Redell-White–Paintings, prints and art; Barbara Smith–Jewelry; and Vicki Sopher-Decorative Arts. 
 
And remember, all proceeds benefit the Henry B. Plant Museum. Parking is available in the Faculty and Staff parking lot on the west side of Plant Hall.
Have fun, and we'll see you back here with more great things to do in Tampa Bay, and other Tampa Bay area events.