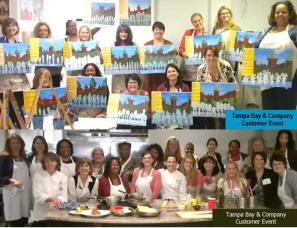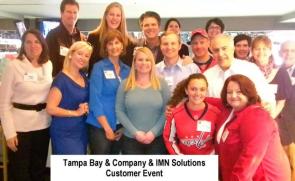 From March 6 – 8th, Tampa Bay & Company representatives and its partners embarked upon another successful sales mission in Washington DC, one of its top feeder markets.  Four Tampa Bay & Company partners joined Regional
Account Executive Dori Laack and National Sales Manager Tammy Lamm for three client event functions. 
The purpose of this mid-year team Tampa Bay sales mission was to engage existing clients and build a rapport with some new clients in a fun, casual and relaxing atmosphere.
In keeping with all the new and exciting things happening in Tampa this was just one mission where we truly got to do things differently and creatively all the while allowing our clients to uncover the treasures of Tampa with a Tampa themed painting class and a culinary class.  The theme of two hosted events were "Palette or Palate - Choose your favorite withTampa Bay".   
In keeping with the knowledge that partnership for Tampa Bay & Company is one of the keys to our success  - for our third client event it was a wise decision to partner with one of our top third-party producers - IMN Solutions. 
Our newly appointed regional account executive, Dori Laack as well as team Tampa had the opportunity to meet & greet with our IMN Solutions partners along with a few of their top clients for a Tampa Lightning vs. Washington Capital hockey event. 
What a successful mission! As with all three events the customer/clients – have either met or will be meeting in Tampa that will generate thousands of hotel room nights while producing an economic impact for the destination – not forgetting the potential to provide future RFP's to consider Tampa for meetings or conferences ...noting that since returning home we having already received RFP's from this mission!
Well that's all for now ... but until the next time... THINK TAMPA & stay tuned in for more Tampa Bay meetings & conventions updates.
The focus of the Convention Sales team of Tampa Bay & Company is to bring conventions and meetings to Tampa Bay to create positive economic impact for Hillsborough County.  Tampa Bay & Company leads the effort of "Economic Development Through Tourism" in Hillsborough County.
For more information about Tampa Bay & Company, visit www.VisitTampaBay.com.