Hey Tampa Bay, do you enjoy art, music, dance and/or fashion? If so, Alex here to tell you about an event just for you!
The RITZ Ybor will be hosting the art, music, dance and fashion extravaganza that will feature 75 local artists along with over 100 musicians, dancers, models and performers.
On Saturday, April 2, 2011
, Square One will present this spring 2011 and 7th Square One Creative Event called MAN ON THE MOON.
Artists and performers are asked to present their work based on the chosen theme which involves specific concepts, colors and subject matter.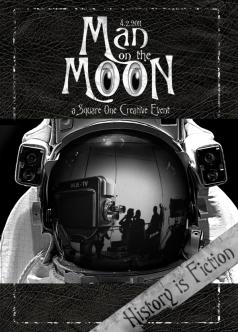 The theme of MAN ON THE MOON revolves around the concept of history vs. fiction. Neil Armstrong's historic and infamous landing on the moon in 1969 can be viewed as either one of mankind's greatest triumphs or as one of history's greatest hoaxes.
Select artists will be asked to present their take on a historical event or conspiracy theory.
Audiences will be encouraged to incorporate the theme colors into
their attire by wearing the colors black and white at the event.Doors open at 7pm and the event will last until midnight.
The Ballroom Stage showcase at MAN ON THE MOON will start at 9pm and feature performances by resident dance collectives, bands, singers, artists and a fashion show by designer Jorge Alvarado.
MAN ON THE MOON, a Square One Creative Event, is open to the general public of all ages.
There will be a $4.00 donation at the door on the night of the event. Reserved seating and V.I.P. tables are available by e-mailing rsvp@squareoneflorida.com.
Get ready for an awesome event, and make sure you tell all of your friends!
For more information on MAN ON THE MOON and Square One, please contact Mr Okesene Tilo at:
Tel: 813 394 0559, Fax: 813 248 1435, E-mail: Okesene@squareoneflorida.com, or check out,
www.SquareOneFlorida.com
.
Have a great day, and check back with us often for more information on Things To Do In Tampa Bay!