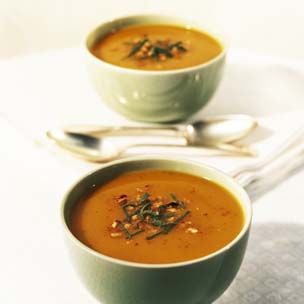 Hey Tampa! Hope everyone had a fantastic Thanksgiving! Remember a few weeks back when I posted a wonderful recipe from the Seasons 52 Grill? Well in that post I mentioned that I would be posting another recipe shortly…and it is now that time!

This time I will be giving you guys all the instructions on how you can make their Roasted Butternut Squash Soup.

Here all the ingredients you will need to pick up to get started:

Ingredients:
• 1 ea Butternut squash – about 4½ packed cups
• 2 ea Apples (not red), peeled, cored and sliced
• 1 tbs Brown sugar
• ½ tsp Cinnamon, ground
• 1 tbs Canola oil
• 1 ea Onion, Spanish, peeled and diced ½"
• 1 tbs Ginger, minced
• 1 quart  Vegetable stock (low-sodium)
• 1 tsp Chipotle Tabasco
• 2 tbs Honey
• 1 tbs Kosher salt

Garnish:
• 1 ea Apple, washed, cut in small slivers
• Dollop  Sour cream, reduced fat
• Pinch  Chives, sliced fine
• Pinch  Pumpkin seeds, toasted

Now that you've got all the stuff you'll need, follow the steps below.

Procedure:
• Gather and measure all ingredients.  Wash and prep veggies, cut squash in half, lengthwise and spoon out seeds.
• Place squash halves and apples on foil-lined cookie tray, cut side up.
• Combine sugar and cinnamon and sprinkle mix evenly onto squash.
• Roast squash halves in 350º oven for 45 to 60 minutes until tender.
• Cool at room temperature for 30 minutes until able to handle.
• Scoop pulp from skins.  Reserve pulp for soup.
• Heat oil in soup pot at medium heat.  Add apples, onion and ginger.
• Sauté for 5 minutes until tender and sweet.
• Add vegetable stock.  Stir in cooked squash pulp.
• Simmer on low heat for 15 minutes.
• Add Tabasco, honey, and salt.
• Puree fine in a blender until smooth.
• Garnish with apple slivers, sour cream, chives, and toasted pumpkin seeds.
Sidenote: If you want to ensure you get every little last drop out of the honey jar, make sure to microwave it for 10-20 seconds.

If you're thinking this is going to make a lot of soup, you're thinking right! This recipe will serve 6 to 8 people so make sure to invite your family and friends over to test out this delectable creation and remember to thank our friends at Seasons 52 for sharing a fantastic recipe with us!

And of course, remember to keep looking back here for more about Tampa and Tampa Bay Area events.