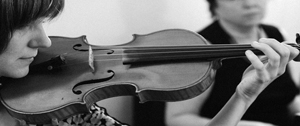 Hey Tampa, Melissa back again with info about another art event at USF.This time I'm here to tell you guys about the annual
Rutenburg Chamber Music Festival
.
There are two components to this event, one in the fall and another in the spring. Since it's almost November I think it makes more sense to talk about the fall component for now. It will span from November 3rd through the 7th and will feature masterclasses by pianist and chamber musician Rebecca Penneys; a lecture entitled "Flow and Attention in Learning" presented by Chautauqua Institute faculty member and optometrist Ray Gottlieb; and two concerts given by chamber music ensembles from the USF School of Music. What a lineup!
The Music Festival with take place in one of USF's recital halls. Tickets are really affordable too:
$8 students/seniors, $12 adults (Advance Sales)
$10 students/seniors, $15 adults (Day of Performance)
Please visit their website for some more information about the event, a quick rundown of the schedule and even a chance to "meet the artists"-figuratively-their bios are on the page.
Alright guys, as much as I would like to stick around, I have to go-someone has to find out about all the great things to do in Tampa Bay. Luckily, that's why we're here, so keep checking back for more about Tampa Bay area events from me and the team!