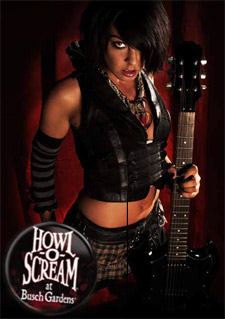 Hey guys, Melissa here with the annoucement from our blog winner! Thanks to everyone who participated in our Howl-O-Scream ticket giveaway! The official rules were that you were supposed to answer the trivia questions on our Twitter and Facebook pages. However, we received an overwhelmingly large amount of responses directly on the blog as well. This goes against the rules; HOWEVER, we were able to hook up those of you who answered directly to our blog with 2 tickets (including general admission, fright feast and front of line passes.) Please note that this is a onetime exception, in the future please follow contest rules.
Now onto the more interesting stuff, our winner from the blog responses is Shannon Peters! Congrats to Shannon, we will be emailing you with directions on how to claim your prize. In case some of you were wondering the correct answers for the contest are as follows:
1. The lead singer, Sylvie is a brunette with brown eyes.
FALSE: she has green eyes


2. This year's featured band is called "My X", but what were they formerly known as?
 YX

3. The old lead singer, Alex split from the group and moved down to Florida to start his own
band.
FALSE: Alex mysteriously disappeared with no explanation; it was a different band member who relocated to Florida.

Again thanks for playing Tampa Bay! Even if you weren't a winner, you should still check out Howl-O-Scream; it's the last week and this year really rocks! As always, keep an eye out here for more about Tampa and other Tampa Bay Area events!