Hello all, Jerm here with an SEC Basketball tourney update! I made it out to the Mississippi State vs. Georgia game yesterday at the St. Pete Times Forum and as expected, my home state Dawgs and took care of business by wiping out the other Bulldogs by a scoreline of 79-60! 
If you didn't happen to make it out to the game, first off let me say shame on you, especially if you are an SEC alum, but even if you're not an SEC fan you missed some pretty good basketball games. The Tampa Bay weather in recent weeks has been amazing so I cant think of a better day to be downtown walking around and seeing the sea of color that is thousands of SEC Basketball fans in town to support their teams!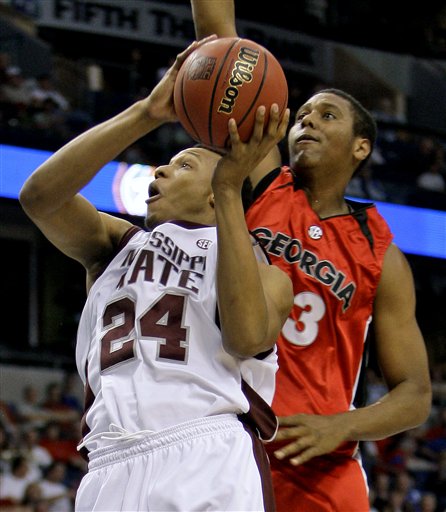 Myself and my lovely companion (she herself happens to be a Mississippi State Grad) cheered the Dawgs and leading scorer Kodi Augustus to victory as they made it look easy all game long. Early on I got the feeling that the Georgia bark was allot bigger than its bite, as we seemed to come out firing and took it to them early and often as we went into the locker rooms at the half with a hefty lead.
The second half wasn't much different as it seemed like every time we looked up, State was burying another three point basket, or snagging a defensive rebound and heading back down to the other end of the court. At the end of the day the dawgs march on to play another day as they hope to have a good showing and make it to the NCAA tournament on the back of a good SEC run.
Coach Rick Stansbury and the dawgs face a stiffer test today as they will face the South Carolina gamecocks on day two of the tournament at 3:15pm. 
I'll be out there again today so come out and cheer us on, or just come out and enjoy the atmosphere that only college basketball in March can generate! Bring the kids out to to
Fan Fare
and make it a family affair!
See you guys out there and be sure to stay on the lookout for more things to do in Tampa Bay.