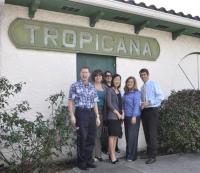 Hi everyone.  Travis back with some delicious things to do in Tampa Bay.  Let me start by saying that I love Ybor City.  Second, I love good food.  So this naturally leads me to one of the staples of Ybor City - La Tropicana.  This place is more like a tradition. 
Team Liger stopped in today for lunch, and we weren't disappointed.  As we walked by the reserved table in the corner for Mr. Manteiga, we found a spot just a few feet away from the counter.  As we sat down the talking at the table immediately stopped as everyone looked through the menu to figure out what they were going to try...and we tried a lot. 
A pork sandwich...a Cuban sandwich...an egg cuban...salads...black beans and white rice.  We tried just about everything on the menu, inlcuding their cafe con leche after it was all over, and to say that it was all delicious really doesn't cover it. 
There's no place like La Tropicana, so if you get the time, swing in and grab a bite.  This place is certainly worth the trip. 
We'll see you back here for more updates about dining in Tampa Bay, as well as info on other great Tampa Bay entertainment options.