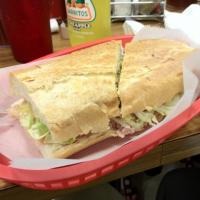 Hey gang! Jerm back here to tell you about my latest Tampa Bay dining experience with a bit of a Cuban flair!
I recently had the chance to go and get my grub on at La Ideal Sandwich Shop Located in West Tampa, one of the city's oldest districts, La Ideal has been specializing in authentic Cuban sandwiches for over two decades. In addition, La Ideal serves dark, rich Cuban coffee.
Me and some team members here from the staff all decided to head out and try some of the authentic Cuban cuisine at La Ideal and boy was it delicious!
I decided to go traditional and sample the Cuban Sandwich, and let me tell you that you'll be hard pressed to find a better one than this! Add some Black Bean Soup and finish it off with Flan, and you'll be leaving with a happy face on your plate as well as your face!
They also happen to serve my favorite drink also as they sell Jarritos soda! It just doesn't get much better than that! I will definitely be back to have some more of everything and will be bringing plenty of friends along!