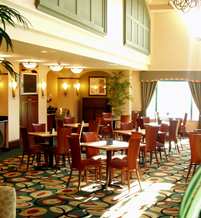 Hi all...Travis back with a follow up to my post last week about my stay at the Hampton Inn & Suites Ybor City.  In case you missed that post, check it out at: http://blog.visittampabay.com/blog/tampa-bay-pr-blog/0/0/hampton-inn-suites-ybor-the-place-to-stay
Well, to start off, let me say that the stay there was aboslutely amazing!  I have stayed in a bunch of hotels, and I'm not sure I've ever felt so welcomed.  From the time I checked in to the time I checked out, they made the experience wonderful. 
I will have to follow up to find out what her name was, but the woman at the front desk was welcoming, attentive and friendly.  We got there just a few minutes early (and our room wasn't quite ready), and she even helped us decide where to have lunch.  And I must say, she gave us some good options! 
When we got back from lunch and went to our room, it had everything we needed...and more!  The bed was comfortable, the room was huge, and we felt right at home.  Plus, after enjoying an evening out in Ybor City...we had to indulge in some treats from the snack area they have...definitely topped off the night. 
Plus, breakfast the next morning was a bit beyond continental.  They had everything from bagels and cereal to waffles, eggs and bacon, and breakfast potatos.  Talk about a great way to start off the day! 
I could probably sit here and sing the praises of this hotel all day, but let's just say that if you are looking for a place to stay in Ybor City, downtown Tampa or the surrounding areas, make sure you keep the Hampton Inn & Suites Ybor City in mind.  This is one hotel that knows what it's doing, and they do it right! 
A huge thumbs up to the Hampton Inn & Suites Ybor City.  If you want, head over to www.tampayborcitysuites.hamptoninn.com to get more info. 
And keep checking back here for more Tampa tourism updates, along with other great things to do in Tampa Bay and Tampa Bay area events.