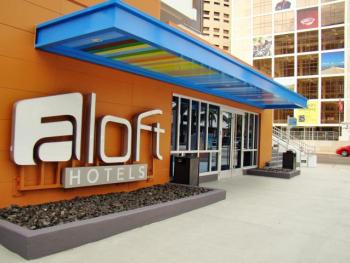 The full definition from the Merriam-Webster dictionary states that "aloft" can be defined, at or to a great height.  Opening this week in downtown Tampa, Aloft hotel is just that.  Tampa's newest electric building lights the night with bright hues of hot pinks, neon greens and takes Tampa's downtown to greater heights.
The Aloft hotel brand is based out of North America under the Starwood Hotels & Resorts Worldwide umbrella and most often referred to as "Hip Hotel Baby Brother of W Hotels".  Inside boosts activity and modern architectural design elements that are still inviting making it a very social atmosphere.  Aloft also have their own terms they use to explain everything.  For example, the "splash" or the "re:fuel", etc…  The spaces are designed for global travelers who love open spaces, open thinking and open expression.  The social scene is vibrant and the connectivity of the hotel can keep up with the most advanced tech guru. The hotel is so hip, that aloft is the first hotel you can use your smartphone to check into your room. What?! No lines, no problem!


Inside, one of the first things you will run into is the Re:mix Lounge along with the WXYZ Bar.  The Re:mix Lounge is the perfect place to relax and enjoy high-speed, free Wi-Fi  or guests can belly up to the WXYZ Bar and sip on signature drinks, fill up with bites and cool tunes.
Re:fuel by Aloft gives you your foodie fix 24/7 with grab and go light meals, mix-and-match munchies, healthy bites, make-your-own-cappuccinos and even a kitchen window in case you need something heated up.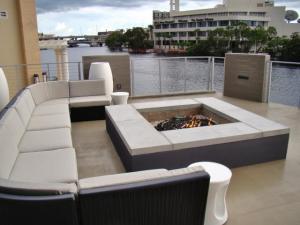 Re:charge Gym insures guests can stay in tip-top shape.  Sprint, stretch, lift and pump the iron waterfront or get fit with state-of-the-art stationary bikes, treadmills and elliptical machines, all open 24/7.
Splash Pool is the only infinity pool in Tampa and open to the bar patrons.  Swim laps or lounge in style at the pool morning or night, anytime that you want to take a dip
Arf is the pet-friendly program for dogs under 40 lbs that features an Aloft-branded bed and bowl, plus treats and even a toy for Fido to take home after his stay.
Camp Aloft is for the kiddos! When the kids check-in the hotel they are given a special Camp Aloft bed-in-a-bag and special treats.  So, bring the kids … adventure awaits for everyone in the whole family.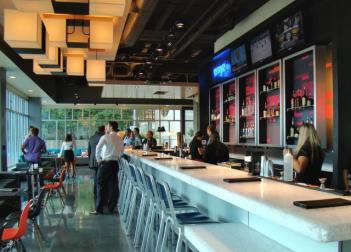 Lastly, Aloft isn't just for travelers.  They welcome all Tampa locals to come check out the new hotel, hang out, grab drinks and check out the electric and social ambiance. Happy hour specials run Monday through Friday from 5 p.m. to 7 p.m. and Tampa's local craft beer, Cigar City Brewing is always on tap!  Thursdays, WXYZ Bar will have "Diva Thursdays", where Tampa's hottest and emerging female DJ bring live music all night!
Aloft is the perfect place to stay, play, connect or recharge while unlocking your experience as a local or a visitor to Tampa Bay.