Hey Tampa, Lisa here with an update from one of our most unique Tampa Florida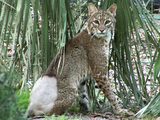 Attractions.
Big Cat Rescue in Citrus Park has a big announcement: after 16 months of treatment and rehab, they have successfully released a Florida Bobcat (Bellona), back into the wild. Bellona had a shattered leg and required two surgeries to fix it.
The
story of Bellona
is so good that I could not re-tell it any better than it was told on the Big Cat Rescue website. It's a story of determination, and all around good will towards Florida's fine animals. If you would prefer to watch the story, they also have a detailed
youtube video
that explains it all.
Big Cat Rescue is the largest accredited sanctuary in the world dedicated entirely to abused and abandoned big cats. Because of their hard work and dedication cats like Bellona are able to be re-released int their natural habitats. They are also a non profit organization that started in 1992, and are currently home to more than 100 Big Cats.
The entire Bellona story has been documented through short youtube videos in preparation for a full length release video. All of the
videos can be seen here
.
If you haven't been to
Big Cat Rescue yet
, I highly recommend it. It's one of the most unique places in Tampa.
That's all for now, but check in later for other Things To Do In Tampa Bay!