Excuse me while I climb on my hockey soap-box for just a brief moment. Lisa here, with an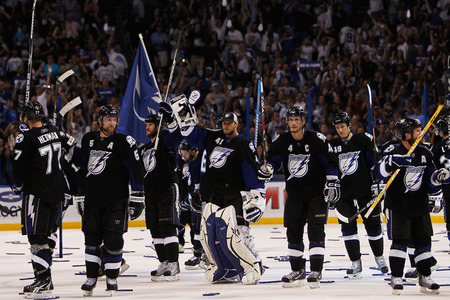 exciting recap of Game 6.
It is with extreme excitement and great pleasure that I write to you today. Last night Tampa showed us just how much they deserve the other spot in the Stanley Cup finals. After a fantastic 5-4 victory, we have forced Boston to do exactly what they were trying to avoid; playing a Game 7. I LOVE THIS SPORT.
To start things off, Purcell gave us a beautiful goal just a mere 36 seconds into the game. With a great face-off win by Levalier, Bostons goalie didn't even see it coming. Unfortunately we were down a goal at the end of the 1st period.
Coming into the second period we needed a goal, but we got two. In fact they were back-to-back power play goals. The second scored by St Louis and the third goal of the night was scored by Purcell (Starting to notice a theme? I am).
At the beginning of the third period we were winning 3-2, and we started the period with a power play left over from the end of the second. Power plays were clearly our sweet spot last night because 34 seconds into the third Stamkos gave us a 4-2 lead. Boston fought back to make the score 4-3 (Lightning still winning). And then the most beautiful goal I've seen in a long time happened.
St Louis scored a wristshot goal assisted by Downie and Stamkos about halfway through the third period. I strongly urge you
to go online
and watch the goal. It is AMAZING. But Boston wasn't done yet. They did score a 4th goal about 3 minutes later, but Roli was able to stop them from winning.
Game 7 is TOMORROW night in Boston at 8pm. I physically am not sure how I am going to make it through the game. The last 5 minutes yesterday were so intense I am sure it took minutes off my life.
If you are a lightning fan, last nights game is something to be beaming with pride about. The Bolts played with all of their heart and it showed. I am glad to have adopted Tampa as my team and can't wait for tomorrows game.
I am now done with my hockey soap-box, and I hope you enjoyed it. I'll be back later with other Tampa Florida News, and other Things To Do In Tampa Bay.
LET'S GO BOLTS!