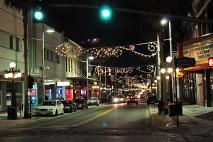 Hey Tampa Bay ~ Jessica back with more Tampa tourism news... The Ybor City Chamber of Commerce will hold its 4th Annual Ybor Aficionado Days in April (Saturday and Sunday, April 10 & 11).  What's the celebration about you ask?  This Tampa Bay area events an excuse to celebrate the anniversary of the manufacture of the first cigar in April 1886. 
This up-scale, two-day event will begin Saturday afternoon with a Tapas Trail touring over a dozen of fine Tampa Bay dining establishments in Ybor City from 4:00-7:00 pm.  Following th restaurant tour will be an After Party/Smoker (at 6:30 pm) at the historic Italian Club with music by Mainstream, sample spirits, pasteles and cafe con leche.  Also, have a complimentary photo taken in your tropical attire by Tampa's Jow Photo or step down into the Clib's Cantina to enjoy a fine, hand-rolled cigar.
Next, the event continues on Sunday at 11:30 am with an elegant brunch at the world famous Columbia Restaurant on La Setima.  The traditional buffet will be laid out in the Patio Courtyard.  In addition, observe the results of the first ever Tapas Cooking Challenge and listen to smooth jazz artist Les Sabler. 
Tickets for the Tapas Trail and After Party/Smoker are $35 and tickets for the Jazz Brunch are $45.  A combination ticket can be purchased for just $70... contact the Ybor City Chamber's Visitor Information Center @ 813.241.8838 or visit
www.ybor.org
 for more information.
Don't miss this and other great Tampa Bay area events happening this spring!!  Check back soon for more things to do in Tampa Bay ~