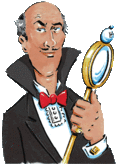 Happy Friday Tampa!!  Jessica here with a weekend update... if Travis hasn't already given you enough things to do in Tampa Bay this weekend, here is one more option! The
Detective Dinner Theater
, a performing arts company, will be live this evening at the Quorum Hotel Tampa.
"A Wedding to Kill For" is an interactive murder mystery dinner theater that involves the entire audience in the action.  As an audience member, you find the clues and you solve the murder.  With play money and a set of written clues each dining table works together to solve the mystery... by the end of your four course meal, you're invited to guess "whodunit"!  Prizes will even be given to those guests who solve the murder correctly!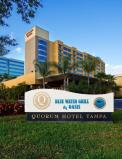 This event begins at 7:00pm and tickets are available at the door (price includes meal, gratuity, and show)... but don't worry, if you miss the action tonight due to all the other wonderful Tampa Bay area events happening, you can catch this entertaining dinner theater
every
Friday at the Quorum Hotel in Tampa!!  For more information, call the catering office at the Quorum, 813.289.8200 and to check out more Detective Dinner Theater events, visit
www.detectivedinner.com
.
Check back soon for more Tampa Bay entertainment updates and Tampa tourism news!!  Have a great weekend ~