Happy Wednesday Tampa Bay, Alex here with some exciting restaurant news.

Seasons 52 is offering a special, limited-time addition to its menu of Mini Indulgence desserts this February. Between February 1 -15, 2012, you can order a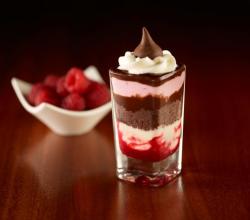 Chocolate Raspberry Valentine mini indulgence, which features a combination of decadent chocolate cake layered between ribbons of chocolate syrup, raspberry puree and raspberry mousse, garnished with whipped cream and a chocolate "kiss."

The Chocolate Rasberry Valentine mini indulgance  looks so delicious! 

Mini Indulgences offer guests classic dessert flavors featuring top quality ingredients and highly creative presentations. The idea is to provide all of the pleasure of finishing your meal with a great dessert, but none of the guilt.

For those of you who have never dined at Seasons 52, this restaurant changes its menu four times a year, with weekly fresh features to truly capture the flavors of the season. Nothing on the menu is above 475 calories, from the signature flatbreads and appetizers to every entree and the Mini Indulgence desserts.

Make your Valentine's dinner reservations today. Don't miss out on your chance to try the Chocolate Raspberry Valentine mini indulgence. 

Enjoy your day! Check back with us throughout the week for more information on Tampa Bay Dining!