Hey Tampa Bay, Alex here t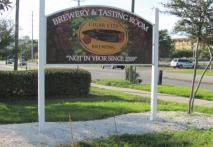 o let you know about a recent group visit to a local brewery.
On Friday afternoon a group of us took a trip over to Cigar City Brewing for a tour of the facility. We had the opportunity to get an up close look at the 19 fermentors, six 15 barrel, ten 30 barrel and three 60 barrels that are constantly at work to make the delicious beer served in the tasting room. This beer is also bottled up and shipped to grocery stores, bars and restaurants around Florida and to a few other cities around the United States.
Make your tour reservations today. Tours are offered  on Wednesdays,Thursdays, Fridays and Saturdays. Tours are $5 and include a beer and pint glass you can take home.  It's a great way to spend an afternoon with friends and family, while learning the process behind making a delicious beer... and tasting a few too!
As many of you may know Beer Week started on March 3 and continues through March 10, so head on over to Cigar City Brewing to celebrate! Also, make sure you participate in Hunahpu's Day on March 10th.

Visit, http://www.cigarcitybrewing.com/, to find out what is on tap in the tasting room, the latest bottle releases and for more information on Cigar City Brewing.
Check back with us often for more information on Things To Do In Tampa Bay!