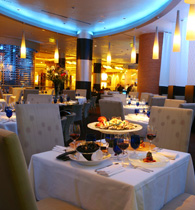 So for those of you who were following my
tweets
yesterday around noon, you are well aware that Jerm had lunch at the new
Aquaknox
restaurant over at the also new,
Westin Tampa Bay Hotel
. If you have never been to an Aquaknox resaurant before, then you are in for a site once you get there, as this place is like nothing you have ever seen.
We are really fortunate to have this unique Tampa Bay dining experience here, as we are one of only three cities in the US to actually have one, with Vegas and Atlanta being the others.
The look and feel of this place is breathtaking with the theme designed around the idea of entertaining all five senses, which believe it me does, especially sense of smell (which is my favorite), with the state of the art open kitchen directly in front of you when you walk in!

I was actually here a few months ago at the hotel grand opening and got the chance to see how gorgeous this place is in the evening, but didnt have a chance to sample the cuisine, so I was excited to have the chance to do so this go round.
Once we sat down, the experience got even better as we had a familiar face serving us for lunch.
Cathy Kennedy, who was one of many "
Faces of Tourism
" was our server, and gave me some insight on whats good on the menu, which by the way is EVERYTHING.
I had a hard time trying to figure out exactly what I wanted to eat, as the
lunch menu
has such a wide variety to choose from. In the end, I decided to go with the Aquaknox Burger, because I was in the mood for some beef.
Now I know many of you maybe asking yourself how does Jerm like his burger cooked (okay maybe not, but I will tell you anyway). I am normally a "well done" type of guy but lately have been experimenting with "medium well." I often have a hard time finding a restaurant that can actually make the burger the way that I like it, but that wasnt an issue here. Once I took my first bite, that burger didnt stand much of a chance to last more than three minutes, and if you look at the picture that I took of it (above), then you will understand why!
After lunch, we took a quick tour of the wine room where they have an enormous selection wines for you to choose from. If you haven't guessed it by now based on everything I have told you thus far, Aquaknox is where you need to be for a complete dining experience. Whether you are hosting clients for business, bring a date, or hosting an event, you and your guests will be 100% satsified with teh food, staff, and overall awesomeness that this place has to offer.
Well guys, Jerm is signing off now, but stay tuned for more of my updates on Tampa Bay entertainment and where to eat in Tampa Bay!