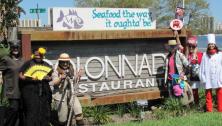 Good morning! Krista here to tell you about a great lunch our staff had at a true Tampa Bay classic - The Colonnade! Overlooking Downtown Tampa along beautiful Bayshore Blvd, our team enjoyed fresh parmesan crusted tilapia, grilled salmon, and fish tacos, but not before feasting on those delicious mini-muffins!
We learned since 1935 The Colonnade has become one of Florida's finest seafood restaurants. With fresh fish delivered daily, exceptional service and one of the area's most magnificen
t locations, they really are a Tampa Bay favorite! This family owned restaurant does things the old-fashion way with their dressings, soups, bakery and dessert items made daily.
The Colonnade also offers one of the city's best views for dining and entertaining. Their expansive windows present a breathtaking vista not offer by any other restaurant in the bay area. Make sure to ask for one of their exceptional window seats – they are worth the wait!
Hours: Sunday thru Thursday 11am to 10pm
Friday and Saturday 11am to 11pm
Check back often for more information on Tampa Bay Dining!