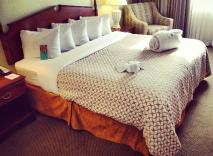 Hello everyone! Hope you are having a great Friday thus far as we head into the weekend!
Last night I had the opportunity to attend an awesome event at the Embassy Suites Tampa Airport Westshore.
The amazing team at the Embassy Suites Tampa Westshore hosted what has been called the party of the year that include casino style gaming and tons of great foodie selections! 
The creative menu boasted the talent that their culinary team has to offer. 
Why the big celebration you ask? Well in addition to being an already awesome property right in the heart of the Westshore District, the hotel just went through a number of upgrades to make it even more amazing!
Some of those updates are as follows:
Phase 1 included all public space, exterior, pool, restaurant.  Included new pain on the building.  Added a water feature in the lobby, new 3500sf outdoor Terrace.  Terrace is a place for relaxing, events, weddings and receptions.  During the cooler months they bring out the fire pits etc.  Summer months have added amenities link games (corn hole, putting etc).  Also host BBQ's or other specialty offers during the summer.  Tuesdays and Wednesday's during Manager's Reception with complimentary chair massages.
Phase 2 which was completed in July included a full renovation to the meeting space (carpet, vinyl, décor etc), renovation of all 243 suites including carpet, paint, furniture bedding etc.
 
Also added a valet service to enhance the arrival experience of all travelers.
In total the renovation was about $4m, and was worth every penny in my humble opinion! As you can see in the photo above, the beds are super comfy, and I can't recall the last time I saw a more spacious layout. So large in fact, that I may just move in, as the rooms were larger than my condo!

Be sure to check it out for all of your vacation planning needs, and for more information on Tampa Bay hotels, be sure to visit our website at VisitTampaBay.com/Hotels!