Hola sports fans! Jerm here with an update on one of my new favorite places to get my sports watchin on!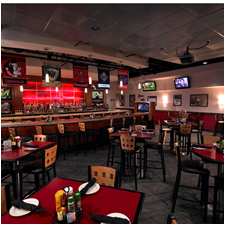 We had the chance to check out
Players Sports Pub
last week for lunch, and what a treat it was! When you can't be physically at the game, Player's is the next best thing (minus the cheerleaders of course.)
Enjoy a high-definition experience as they boast 13 HDTV's, a superb sound system and a 120" projection television, you'll feel like you're a part of the game!
What's better than watching a game on HDTV... yeah you guessed it, stuffing your face with plenty of food while watching a game on HDTV. With a full menu of sandwiches, burgers, wraps, pizzas, and drinks, if you eat like I do, then you may require a wheel barrow to walk out of the place.
We ordered a ton of food that day so it would take me an hour to go over each dish, but I definitely can recommend the potato skins, artichoke dip, bruschetta if you are looking for appetizers. As far as the main course goes, you can never go wrong with the pulled pork sliders, prime rib sandwich, and chicken Parmesan sandwich. Hey, I told you we ate allot!
Player's doesn't only boast a great atmosphere for sports events, but If you are looking to host an upscale event or meeting, the crew at Player's can accommodate you as well! Located within the
Double Tree Hotel
in the beautiful westshore district, Player's has something for everyone, whether your the avid sports fan, or business traveler looking to relax after a day's worth of meetings.
All in all, you really cant go wrong with this place, so get to planning that next big game watch party, and/or upscale event!
That's all for now, but be sure to stop by and check it out for yourself, as I promise you won't be disappointed! Stay tuned in for more Tampa Bay Sports bar related info from the crew here and have an awesome day!