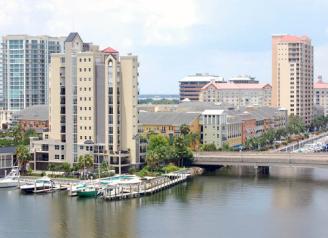 Hey gang!  Travis back with a Tampa tourism update that I just had to share.  In case you didn't read it in the Tampa Tribune yesterday, city officials are pushing to have a park in the channel district.  Here's the info from the Trib -

The city is negotiating to buy vacant property at Washington and 12th streets to build a half-acre neighborhood park, according to Bob McDonaugh, the city's urban development manager for the Channel District and downtown.  The park will be at the center of the neighborhood, with aspirations of building an additional park north of Kennedy Boulevard and another one in the south part of the district.

Once the city has the property under contract there will be a neighborhood meeting to discuss whether people want the park to function as a passive or active park, and the types of amenities they favor, McDonaugh said.

It would be the first park in the Channel District Community Redevelopment Area, which is bordered by the Selmon Crosstown Expressway to the north, Garrison Channel to the south, Ybor Channel to the east and Meridian Avenue to the west. The district's redevelopment area is 212 acres.

And there you have the basic details, but click here to read the rest of the story. 

As always, come on back for more update about Tampa Bay area events, as well as great things to do in Tampa Bay!