The opening night of the
Gasparilla Film Festival
was last night, and as promised, Jerm was on the scene and ready to give you the low down from last night.
The Tampa Bay film crowds were out and about at the
Tampa Theatre
as the place was packed wall to when I got there around 7 pm. Before last night it had honestly been about 4 years since I had last seen a film there, which is amazing considering I live only a few blocks away. After last nights amazing event, though I will be sure to try and make it out more often. It was a packed house, as the VIP Reception and Screening completely sold out and you best believe the atmosphere was buzzing.
Jerm is a big fan of the ladies, and let me be the first to say the event did not disappoint. Tampa's most beautiful people were out last night to celebrate what is fast becoming one of the regions most prestigious film festivals. The spread of food and drinks was equally impressive as the wine was flowing, the ribs were tangy, and anytime
Pei Wei
is there its gonna be a good night!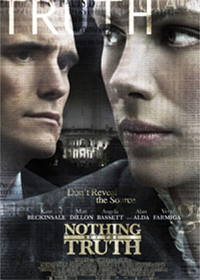 I don't think there could have been a better venue than the Tampa Theatre, as it is truly an amazing sight to watch a movie there. I sat in the balcony seats and looked up at the stars as we watched writer-director Rod Lurie's CIA suspense flick
Nothing But the Truth
, which by the way is an amazing movie, that I recommend everyone see. Mr Lurie was even on hand at the festival to take questions after the screening.
All in all, I would have to say it was a great opening night, as the event sold out and just about every seat in the house was full. Be sure to check out the rest of the film festival and be on the lookout for me as I attend these screenings below throughout the festival:
Kasim the Dream
The Marconi Bros
Il Divo
Strip Club King - Joe Redner
Until next time, see you at the movies, and stay tuned for more things to do in Tampa Bay!