Good afternoon Tampa Bay, Alex here to share with you some news on the new exhibition that is coming to the Tampa Bay History Center.
Spies Traitors and Saboteurs: Fear and Freedom in America, a new traveling exhibition, explores the history of domestic terrorism and espionage from 1776 to Sept. 11, 2001.
This exhibit is opening at the Tampa Bay History Center on Sat., Feb. 4, 2012.
On loan from the world-famous International Spy Museum in Washington, D.C., Spies, Traitors and Saboteurs revisits long-forgotten events in our nation's hi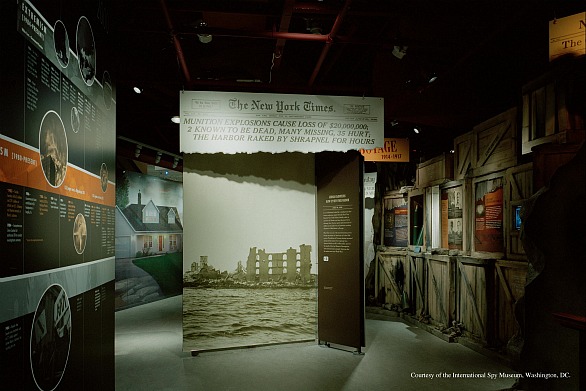 story, from the capture of the White House in 1814, to the bombing of the U.S. Capitol building in 1971 to recent events such as the 1995 Oklahoma City bombing and the September 11 attacks of 2001.
The exhibition dramatically illustrates the challenges of securing our nation against internal threats without compromising the civil liberties upon which it was founded, and reflects on how responses to domestic attacks continue to affect our everyday lives. 
Some of the artifacts in this exhibit are listed below:
More than 145 historic photographs and documents
Timeline tracing more than 170 different events
Anarchist Globe Bomb (replica, ca. 1886) presented as evidence in the trial of the men tried in connection with the Chicago Haymarket riot.
APL Badge and ID Card (1917) carried by operatives of the American Protective League (APL) who spied on their fellow Americans on behalf of the U.S. Justice Department during World War I
Ritual Klan Red Robe (c. 1965) worn by the Klan "Kladd," the elected Klan officer who presided over the secret rituals and ceremonies of the Ku Klux Klan.
Fragments of the Planes that Hit the World Trade Center (2001), recovered after the attacks on September 11, 2001, and used as evidence by the FBI in their ensuing investigation.
Visitor Polling Stations, unique computer interactive that allow visitors to express their opinions on questions raised in the exhibition about how the nation has responded to the historical events presented. Visitors also can see how Americans responded to similar questions posed by the Gallup Poll throughout history.
Spies, Traitors & Saboteurs: Fear and Freedom in America will make its only scheduled stop in Florida at the Tampa Bay History Center Feb. 4 - June 24. The exhibition is recommended for ages 12 and up.
For more information on related programming, visit www.tampabayhistorycenter.org or call (813) 228-0097.
Make sure to head on over to The Tampa Bay History Center between Feb. 4- June 24 to experience the Spies Traitors and Saboteurs: Fear and Freedom in America exhibit. You won't want to miss it!
Check back with us often for more information on Things To Do In Tampa Bay and Tampa Bay Museums.