Hi Tampa Bay! Alex here to let you about our team's recent visit to the other side of the bay.

We took a trip to the Clearwater Marine Aquarium for a tour of the wonderful facility and of course to meet the movie star, Winter!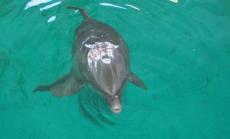 The Clearwater Marine Aquarium specializes in the rescue, rehabilitation and release of sick or injured marine animals.
All the animals that come through the doors arrive because they were suffering from an illness or severe injury in the wild. We had the chance to see some of the wonderful animals-dolphins, turtles, otters, that have been rescued and are currently living at the aquarium.
 
 If you are looking for a great way to spend an afternoon with your children, The Clearwater Marine Aquarium is just the place for you!
 
We want to send a thank you to John, our excellent tour guide, and Rosemarie Rayne and Michelle Poyet with Visit St.Pete Clearwater.
 
Check back often for more information on Things To Do In Tampa Bay and for information on Tampa Bay Attractions!