Say you are here visiting us in our lovely city, and you decided that you want to sample some of our fine cuisine, but weren't sure where to start? What if you are a resident, and want to get out there and see what this fine city has to offer you as far as food goes? Well I found myself on the latter end of that question, as I have lived here in Tampa for going on about 9 years now (wow that went by fast)! I mean yeah of course I do eat allot, but usually the same types of foods at the same places, sad yes I know.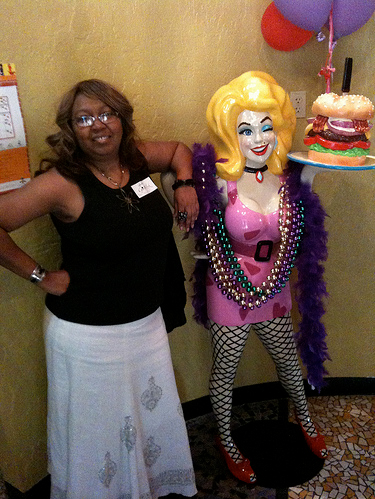 Hello everyone, Jerm here to tell you about one of the newest and "fullest" things to do in Tampa Bay that I recently discovered. As I said above, I found myself always eating at the same places and not trying much new stuff, well at least not as much as I would like to anyhow. Then it all changed last week at a company function when I met Anita Gary of
Gourmet Trek
!
Gourmet Trek is the brain child of Anita, and is a concept that I think we have needed for a long time in this area. So many good food, wine and beverage options here in Tampa Bay, but its hard to do it all at once.
As I said earlier, I met Anita at a company function and she was telling me about this great idea that she had and wanted me to come out and see it for myself, so I decided to try it out.
Now there are plenty of
Gourmet Trek Tours
to choose from, but this particular day we decided to go on the dining/food tour in Ybor City! Here's the rundown of where we went, in order of the stops:
Fresh Mouth
- Started off here, and as many times as I have walked through Centro Ybor, I had never eaten here, but that is going to change, as this place ranks high on my all time favorite milkshake place. But believe me when I say they have more than shakes going on at this place! Don't believe me,
check out the menu
!
New York Pizza
- So I was thinking that on the tour, we would just be given tiny slices and samples of the food... not so much, the gang over at New York Pizza want you to have the full experience of their pizza. Very tasty New York style pizza, and they gave us so much we couldn't finish it...lol 
See this picture
to see what I am talking about...
Hamburger Mary's
- Now I have sampled hamburger sliders from all over town, but I would have to say that these were the best that I have tasted. The rest of the
menu looked amazing
as well, and I will definitely be back for that and the awesome drink specials!
Mema's Alaskan Tacos
- Again, I have had plenty of Tacos here in my stay in Tampa, and furthermore around the country, but these are phe-freaking-nomenal to say the least! Everything is hand made from scratch each morning, and its just amazing!
Check out the menu
for yourselves.
Carmine's
- Onward we moved to Carmine's, and by this point I was stuffed, but I labored on as I am a champ! The food we sampled at Carmine's was the
calamari appetizer
, as it was the food we sampled. Everyone in our group was reaching for it despite how full we were!
Al's Finger Licking Good BBQ
- I must admit that while all of the food we sampled was fantastic, this place was my favorite. Being originally from Mississippi, I am and will always be a big fan of BBQ! I was not disappointed as the ribs and baked beans I had were great! The potato salad tastes just like the kind my mother makes back home! Take my word for it, or
see what everyone else thinks
!
Gaspar's Grotto
- This is one place you have to stop by in case you are in Ybor as they always do great themed events, as well as the great food. The day we were there, there was live music as well as a biker festival related event earlier in the day! They brought out a plate of delicious "Conch Fritters," and while I was too full to finish them all, I definitely took them home for a snack for later in the evening!
Check them out online
!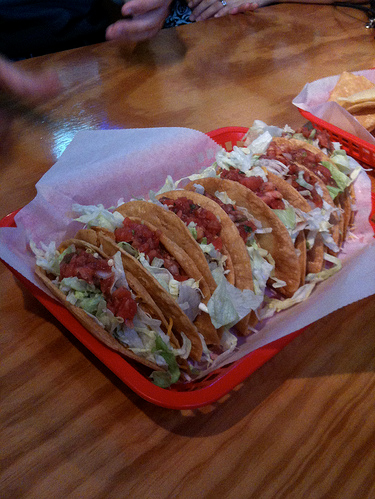 Now once the tour is over, you might need to have someone wheel barrow you home, because you are so full, but since when is that a bad thing! This is without question plenty of bang for your buck as the price of the tour is BEYOND REASONABLE... so be sure to go online and register for your
food
or
beverage
tour!
You also have plenty to choose from as these food, beverage and wine tours stretch across the bay area to include Hyde Park, Dunedin, Ybor City, Channelside/Harbor Island, and Sarasota!
For more info on Gourmet Trek Tours, or to setup a tour,
check out their website
!
That's all for now, as talking about this food has made me hungry! Stay tuned in for more updates on the Tampa Bay dining scene!